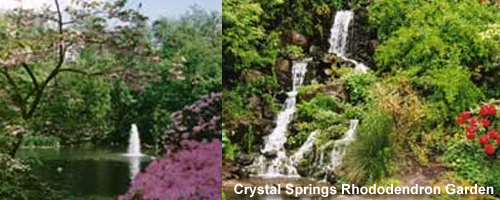 http://www.portlandonline.com/parks
Parks and gardens within the City of Portland are wonderful settings for an outdoor wedding and other group events. There are 180 sites within the city that can be reserved for weddings and receptions. A permit is required for weddings in public parks where guests are invited.
More information on wedding sites in Portland Parks
Council Crest Park
503-823-2525
SW Council Crest Dr
Crystal Springs Rhododendron Garden
503-823-2483
SE 28th Ave & Woodstock Blvd
Notes: Beautiful garden on 7 acres with views of Crystal Springs Lake. Reservations accepted up to 2 years in advance May through September.
Ed Benedict Park
503-823-2525
SE 100th Ave & Powell Blvd
Hoyt Arboretum
503-865-8733
4000 SW Fairview Blvd
International Rose Test Garden – Washington Park
503-823-3664
400 SW Kingston Ave
Joseph Wood Hill Park
503-823-2525.
NE Rocky Butte Rd
Leach Botanical Garden
503-823-9503
6704 SE 122nd Ave
Notes: Leach Botanical Garden's Manor House has a wedding chapel, which will accommodate 85 people. Doors open onto a garden terrace. Kitchen facilities, serving area and changing rooms are also available.
Mt Tabor Park
503-823-2525
SE 60th & Salmon St
Multnomah Arts Center
503-823-2787
7688 SW Capitol Hwy
Notes: Auditorium provides a reception area for up to 180 people with tables or 260 without. Tables, chairs, stage, kitchen, outdoor courtyard with picnic tables, piano, and public address system are available.
Oaks Pioneer Church & Park
503-234-3570
455 SE Spokane St
Notes: Church has a chapel that seats around 75 people. Park-like surroundings include views of the Willamette River.
Peninsula Park & Rose Garden
503-823-2525
700 N Rosa Parks Way
Sellwood Community Center
503-823-3195
1436 SE Spokane St
Notes: Victorian style building accommodates 100 people. Kitchen, meeting room, gymnasium and lobby.
Washington Park
503-823-2525
Head of SW Park Place