Flipbooks Made on site at your event!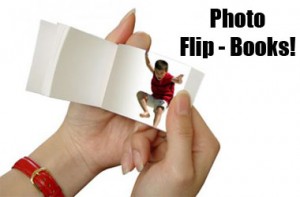 Flipbooks- also known as video flip books, or as fliptography, these little creations are  a must have item at many weddings, and other special events. Some people are even using them as mementos for company parties, sales meetings, etc…
People love them!  To see what the rage is all about, check out the video we have below.
Use our NO OBLIGATION reservation system!

Fliptography is a well known art form where a series of still images are used to create the visual effect of a moving image.  The result is a Photo Flip Book – Check out the video:
Photo Flip books are fun to make, and add an element of creativity to any party you may be planning! They make great keepsakes for all types of parties, events, gatherings and more.  We have the ability to create and print them on-site anywhere! Go Photo Events has provided its Flipbook creation services at a variety of special events, tradeshows, conventions, and more. We have worked with countless customers to provide custom solutions that will promote a brand, fit a specific theme, or provide the ideal keepsake/take home gift for a special event. Our programs are custom tailored to meet the needs of a special event.